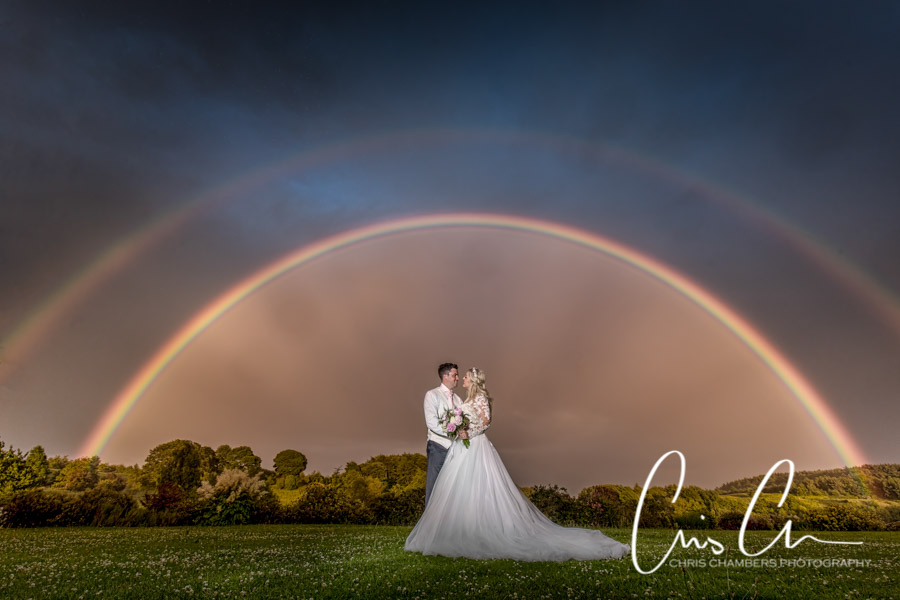 Walton Hall wedding photography | Aaron and Amy's wedding
Walton Hall in Wakefield offers a picturesque wedding venue away from the hustle and bustle of Wakefield City Centre, with an island style wedding venue surrounded by stunning views. We photographed Aaron and Amy's Waterton Park Hotel wedding in West Yorkshire; capturing a glorious rainbow as they shared a moment together on the lawns of Walton Hall.
With experience of photographing weddings in the Walton Hall, you can be assured that I am aware of the best photography locations to capture your dream wedding day; regardless of weather and season. My wedding photography packages suit every bride and groom, from photographing bridal preparation through to evening dances you can be assured that every special moment of your wedding day will forever be there to treasure with beautiful wedding photography.  I work alongside you to make your wedding day as relaxed as can be. Your wedding photograph album is designed around your requirements, from planning the style of photographs to the finished album design you are in control throughout the process ensuring you receive a wedding album you'll love and be proud to show off to all your family and friends. For more information on our wedding packages please head on over to our website, click here.
Website – www.chrischambersphotography.co.uk
Facebook – www.facebook.com/ChrisChambersPhotography
Instagram – www.instagram.com/chrischambersphoto
Chris Chambers Photography | www.chrischambersphotography.co.uk
Chris Chambers Photography | www.chrischambersphotography.co.uk
Chris Chambers Photography | www.chrischambersphotography.co.uk
Chris Chambers Photography | www.chrischambersphotography.co.uk
Chris Chambers Photography | www.chrischambersphotography.co.uk
Chris Chambers Photography | www.chrischambersphotography.co.uk